Bellewood & Brooklawn's evidence based Psycho Educational Model helps youth learn ways to manage their behavioral problems such as:
Aggression
Impulse control
Sexual acting out
And many other behavioral issues that may have resulted from their past trauma, and have caused the youth, family and/or guardian stress.
We help to heal the hearts and minds of our youth who have suffered emotional trauma that can include physical, sexual and verbal abuse or neglect. We also help manage and treat mental health disorders such as:
Mood
Bipolar
Attachment
ADHD
Depression
And many others.
Youth live in family-style cottages on our two Louisville campuses (Bellewood and Brooklawn) that are supervised by trained youth care workers, shift supervisors and cottage managers. Youth learn basic and advanced social skills that help build self-esteem, communication, self-awareness and healthy relationships. Our staff support youth by holding daily family meetings, setting expectations, and pro-actively teaching skills needed to become successful in the community.
The Bellewood campus offers only the Private Child Care (PCC) program. The Brooklawn campus is a combination of PCC and the Psychiatric Residential Treatment Facility (PRTF) program cottages.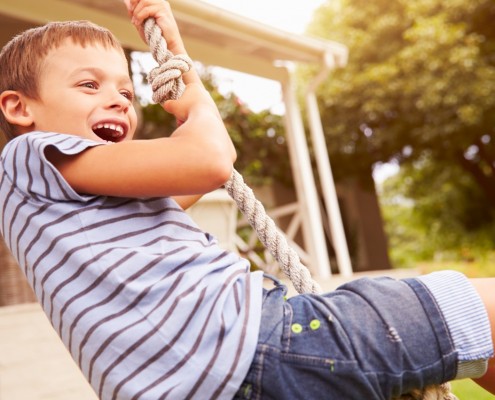 Private Child Care Program
Serving the Department of Community Based Services (DCBS), our PCC program helps youth ages 6 to 18 years old who have been removed from their homes.
Youth in the Bellewood & Brooklawn PCC program receive individual and group therapy weekly. Families are expected and encouraged to participate in family therapy at least twice a month, along with phone calls and visitation as permitted by the DCBS worker. We offer specialty groups for youth dealing with substance-related issues, sexually offending or boundary issues, and survivors of trauma. Therapy services for our youth help the youth and family grow and encourage change. Our goal is to help the youth return to their community as quickly as we can and be successful.
In order to be accepted into the Bellewood & Brooklawn PCC program, youth must be referred by the state of Kentucky.
For information regarding admission requirements, please call toll-free (855) 460-0990 or visit Admissions/Referrals.
Psychiatric Residential Treatment Facility Program
Our PRTF is a program for youth who require intensive 24/7 psychiatric treatment in a residential setting. It is a step up from our PCC program.
The program admits boys age 6 to 17 or girls ages 6 to 11 who have been hospitalized and need additional treatment before returning home. Often, youth have not shown significant progress in outpatient treatment and need a more structured treatment setting. Youth in our program have had numerous psychiatric hospitalizations and services in the community that have not been successful.
The program also utilizes the Psycho Educational Model, but has increased staffing, therapeutic and psychiatric components that provide more individualized and specialized treatment. Family and/or guardianship involvement is one of the requirements.
For information regarding admission requirements, please call toll-free (855) 460-0990 or visit Admissions/Referrals.
On-Site Schools
Our youth attend Jefferson County Public Schools located on site at our Brooklawn and Bellewood campuses. Our schools are accredited and have been listed among the top 10 Best Practice Sites in Kentucky multiple times. Our staff have won numerous awards, including Best Teacher of the Year and Middle School Associate Principal of the Year.
Children from each campus are grouped by grade level to attend classes at one of our two schools. This allows us to provide age-appropriate classes, focused instruction and expanded courses including science, physical education, speech and writing workshops.
Elementary students study at our Bellewood School, while middle and high school students study at Brooklawn School. Horticulture education is provided at the Bellewood School and classes may be held in the state-of-the-art Bellewood Garden outdoor classroom. Brooklawn School offers horticulture and automotive vocational programs.