Message From the CEO – October 2021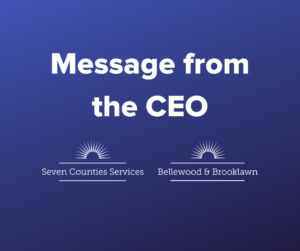 As we approach the holidays, it's important to acknowledge that the upcoming days aren't a jolly time of cheer for everyone in our community. It's difficult to find hope in the season when you're a child who is being abused, or an adult worried about being evicted from your home.
I remember an extraordinary woman who got in touch with our agency late last year. We learned that she had no heat in her home. She asked if we could provide her with blankets so she could keep her children warm. Imagine what those children and their mother felt during what should have been a joyous season. For some, reality does not include food on the table for Thanksgiving or presents under a tree. Many in our community have no fire, warm meals, and sometimes, no home or family.
Whether it's through a donation or action, you can help someone whose spirits might need a little extra lifting this holiday season. You can make a child's Christmas by "answering" their wish list to Santa. We have hundreds of children in our care whose only hope is for a single gift this Christmas. You can request a wish list today by reaching out to Missy Fountain at mfountain@sevencounties.org.
There are many ways you can get involved in giving back this holiday season. Here are just a few ideas:
Sponsor one of our client families for the holidays.
Sponsor a lunch for one of our frontline healthcare teams.
Send a note of encouragement to our staff.
Donate to our food pantry which helps feed families throughout the year.
Make a special monetary donation in honor of a friend or loved one.
You can be the hope for someone struggling that needs caring arms wrapped around them this year.