Message From the CEO – August 2021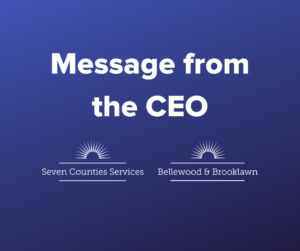 This time last year we were talking about how much change that children and our other clients were undergoing because of the pandemic, such as depression, job loss, and a rise in substance misuse. Fast forward a year, and it's hard to believe we're still in the midst of a battle with the relentless COVID-19. I, like you, am very concerned that we find ourselves back here again.
We are closely monitoring the Delta variant and the ever-changing landscape each day while proceeding with caution. Our organization is blessed to have an incredible team of medical experts on staff. I have full faith and trust in their guidance, and that of our leadership team, on how we should navigate these turbulent waters again while being steadfast in providing critical care to the vulnerable in our community. The Delta variant continues to invade every area of our community, and our children in residential care and other clients across our service area are no exception.
With your support last year, we made it through the storm while continuing to care for our neighbors. Seven Counties Services / Bellewood & Brooklawn is going to need your financial support again this year to help with the unavoidable costs that the pandemic brings. I hope you saw the recent Courier Journal profile article about Walt Perry, one of our superstar Bellewood & Brooklawn youth care workers. Our staff and our clients could really use some notes of encouragement and appreciation right now, and they always love hearing from our many supporters in the community. Would you consider mailing in a few note cards to us soon? We have an urgent need for the items listed below, too. As always, you can reach out to our Senior Director of Advancement, Missy Fountain, about ways you can get involved and support our mission.
We will continue to lift up prayers for you – our village – who supports the life-changing work we do. Your prayers are always of great necessity to us, too. The way our community lovingly wraps its arms around each other proves to be more important than ever.