Message From the CEO – July 2021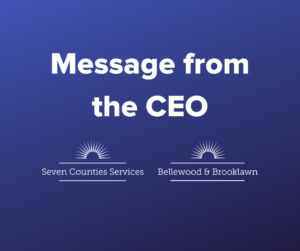 We're almost through July, and it's hard to believe many kids will be returning to the classroom full time and in person in just a few weeks. Children have endured so much change and uncertainty during the pandemic and we know their symptoms may just now show up as they transition back to more structure and normalcy at school. They've also greatly missed some important people in their support network – their peers and their teachers. I'm thankful our school-based counselors will be there to greet them and provide help.
One of the teens who sought help from us recently said, "I feel like I've been in a coma the last year and I'm just waking up. I don't know what I've missed and what to do from here." Sadly, this youth is not alone. Kids have been hesitant to speak up about their anxieties and fears as to not burden their parents, who have been grappling with unemployment, financial insecurity, and more. Let us be patient with the children and wrap them up in love as they make this next step. As a community, we need to continue showing compassion to those who are still struggling as they figure out how to heal and move forward.
I also wanted to share with you a change we announced recently to our staff, who are our most precious resource because of the lives they help change in our communities every day. We're making a significant investment in our people through an improved compensation structure. Our leadership team and Board of Directors felt strongly about doing this to show our commitment and appreciation for what they do. Our staff have been working tirelessly throughout the last year, at times putting their own safety at risk, to ensure the vital help we provide to the community continued with nominal interruption. We have watched our staff go above and beyond and we feel it's our duty to go above and beyond for them. We're committed to making this happen and we hope we can count on you and your continued partnership to support our vision of retaining and recruiting the very best team members who provide quality care. They are truly our frontline heroes of the past year.