Message From the CEO – June 2021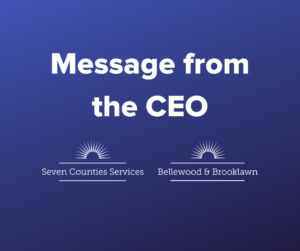 We're finally coming out of the pandemic and there's so many wonderful things to look forward to personally and professionally. I'm especially happy thinking about the kids getting back to school with more normalcy this fall and being with their friends and beloved teachers. Our school-based counselors will also be in the schools again to help the kids with the transition back into the classroom full time. The kids will have some apprehension and anxiety about another major transition, but we'll be with them along the journey to help ensure their success.
Being entrenched in the school systems is just one of the ways we're digging in to help our communities post pandemic. We're also looking forward to seeing more of you at our residential campuses and other sites. Right now, we're so thankful to have volunteer groups coming out to spruce up our landscaping, playgrounds, and other recreational spaces. In fact, there's no shortage of outdoor projects to be done this summer if you, your family, your coworkers, or church members would like to get involved.
You can also volunteer from home by making birthday cards or organizing a school supply drive for much needed items. Having new school supplies really gives our kids the confidence they need and the tools to be successful.
Every hour and every dollar you give is so appreciated as we work together to support the community to get back on track. It won't be easy, and it won't happen quickly, but our team is as committed as ever to do our part. Know that your support, whether it be through time, talents, or treasures, is an investment in the local community – and for that we are grateful because we simply couldn't do our work without you.