Donor Spotlight: Aetna Better Health of Kentucky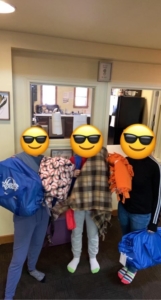 Aetna Better Health of Kentucky is the managed care organization that provides Medicaid for the children we care for at Bellewood & Brooklawn. As our partner, they go a step further to support the children through their Supporting Kentucky Youth (SKY) program by providing some of the tools needed to be successful in life. SKY was designed to help youth who are in Kentucky's out-of-home-care system.
"We are so fortunate to partner with Bellewood & Brooklawn to support not only the best quality services, but to provide comforting items to some of Kentucky's most vulnerable youth. This partnership is especially meaningful to Aetna Better Health of Kentucky as we are proud to serve all the youth in Kentucky's child welfare and juvenile justice systems," said Kelly Pullen, Executive Director of the SKY program. "We're here to help members, and those who care for them, with the tools they need to be successful. Along with the My Stuff Bag Foundation, we appreciate the opportunity to work with the organization on so many fronts, and are thankful for their work to ensure that children have what they need."
We're grateful for all the ways that Aetna Better Health of Kentucky has helped our kids through SKY. They've donated more than 100 "my stuff" bags, which are bright blue individual duffel bags filled with new toys, books, stuffed animals, school supplies, and blankets. Each bag shows a child entering into our care that they are loved and gives them comfort during a difficult time. The girls who live in Boone cottage on our Bellewood Campus were so excited about their warm and fuzzy blankets.
The organization has also supported our mission through event sponsorships, such as our Bellewood & Brooklawn Breakfast, and an event we're having this fall called Stand Up for Recovery.