Message From the CEO – April 2021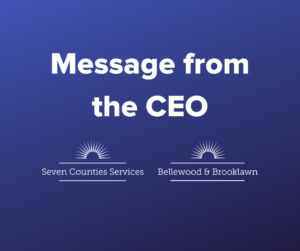 Spring is here, kids have returned to the classroom two days a week, some family visits have resumed, and we're welcoming volunteers back on our campuses for outdoor projects. We are counting our blessings but know that there is still much work to be done.
As we round out Child Abuse Prevention Month, pause and ask yourself what more we can do individually and collectively to help families thrive in our state. It takes every one of us in our communities and across Kentucky to not only advocate, but to create action on behalf of Kentucky's children. They need you, me, the faith community, advocacy groups, and everyone else more than ever.
Did you know most children are abused by someone they know and trust? What kind of conversations are you having about this around your dinner table at home, with your colleagues at work, and with your friends and neighbors at church? We need to keep an eye on our neighbors and make sure we're supporting each other not only through crises, but each and every day. How can we touch families who need help to get back on track? The effort must be inclusive of the whole community working together.
I invite you to join me and my peers from other child welfare agencies in Louisville for a Facebook Live discussion tomorrow at noon ET. We're going to have some very frank conversations about Kentucky's grim child abuse rates, why we're falling behind as a state, and things we can do better to support parents and families who need our help. I hope you can make it.