Donor Spotlight: Chris Teeley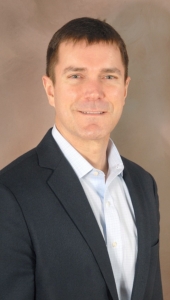 Years ago, when Chris Teeley was looking to get more involved in the community, he came across an opportunity to volunteer at Bellewood & Brooklawn. It didn't take long for him to realize he'd found the organization he'd been looking for.
"Obviously, the cause is fantastic, but I really found it rewarding," he said about his early experiences as a volunteer. "I soon began the process to get more involved and spoke with Abby Drane (President & CEO) about becoming a member of the Board."
Teeley, who serves as Vice President and Global Director of Research & Development, Quality Assurance, and Packaging at Brown-Forman, has served on the board for four years and helped steer the agency during a time of tremendous change and growth. While not new to the position, he said he "continues to be amazed by the work the agency is doing for our community."
Teeley was instrumental last fall in organizing his co-workers to purchase bicycles for the kids we serve.  And rally they did. On a chilly day in December, Teeley and his co-workers helped load 24 bikes and helmets into maintenance trucks for the kids, along with 24 bags of food for those we serve in the community.
Giving back is important to Teeley whether it's bikes at Christmas or taking part in the Harvest for Hope Farm-to-Table Dinner or lending his time and talents as a Board member. He feels it's the best way he can "pay forward" the many blessings he's had in his life.
"I think that the past 12 months have reinforced how important our connection to each other is. For our community to survive time periods like we are in now, we need more people who embrace the mission of Seven Counties Services / Bellewood & Brooklawn. Organizations like this are on the front lines of helping some of the most vulnerable among us."