Message From the CEO – February 2021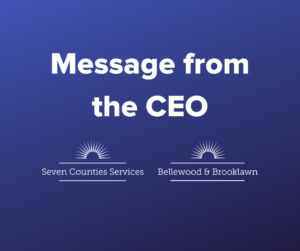 We are a community that works together. I've been reflecting on this statement lately and how true it rings, especially with what we've seen over the last year. Isn't it amazing how individuals and organizations in the community have really come together to care for their neighbors and the least of these?
People have had to worry about losing their jobs and their housing, battling loneliness, getting unemployment assistance, and more, and this uncertainty and unpredictability has had a tremendous impact on children and families. Stress, anxiety, and aggression are at an all-time high from the COVID-19 pandemic, and coping mechanisms such as alcohol and other substance use have increased dramatically. We've seen this reflected in the increase in calls to our crisis line, which saw a significant uptick from 2019 to 2020.
We believe we will see the fallout from the pandemic from a mental health perspective for years to come. While we'd all love to wave a magic wand to get back to normalcy, the reality is that it can take years to work through and heal from the trauma that so many in our community have endured. No matter what the need is, our incredible team members will never give up on those who rely on us – whether it's youth who are struggling, our homeless population, or those having difficulty maintaining sobriety. We will always wrap our arms around those who need our compassion and care.
The silver lining I've seen in the last year is that partnerships have been formed to help those in our community who are vulnerable. Food banks have amplified their distribution, more utility assistance is available, and school systems are getting food in the hands of kids who aren't in school in person. I've also been so pleased to see several vaccination partnerships formed recently, such as the one we have with University of Louisville, to get frontline and essential workers protected. University of Louisville has really embraced our workforce and we are so thankful for that.
I want to express my heartfelt appreciation for your support during this unforgettable pandemic. Thank you for being part of our community that provides life-changing services to our neighbors.